Respiratory Health Through Ayurveda
Dr. Sodhi of Ayush Herbs discusses respiratory health from an ayurvedic perspective. Dr. Sodhi discusses the ayurvedic principles to repair respiratory damage from inflammation, cytokine storm, flavonoids, bronchotone, amla plex, flucommune, and more. Discover imbalances in your patients to treat the whole person and serve them with medicine to nourish the mind, body & spirit.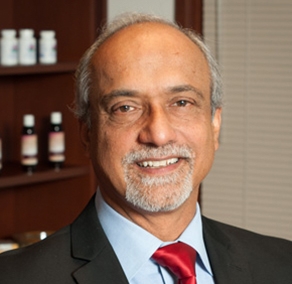 Dr. Virender Sodhi was born in Himachal Pradesh, India. From a very early age, Dr. Sodhi knew that he wanted to be a physician and would go to the village doctor feigning illness in order to procure remedies that he could take home and put into his "doctor's kit". This passion for healing led him to receive an MD in Ayurveda from Dayanand Ayurvedic College in Jalandhar, India in 1980, and then in 1986, he came to the West to share Ayurveda as part of a cultural exchange program. In 1988, he graduated from Bastyr University with a degree in Naturopathic Medicine.
He was the first Ayurvedic and Naturopathic physician in the United States. Dr. Sodhi treats thousands of patients from the United States and around the world. He lectures extensively throughout the U.S. and other countries including New Zealand and Australia, as well as conducting classes and seminars in Ayurvedic Medicine. He also writes regularly about the latest Ayurvedic science updates and has also been featured in the Townsend Letter, NDNR and many other publications. Recently, he was appointed as an official advisor of Ayurveda to the government of Australia. Dr. Virender Sodhi is CEO of Ayush Herbs, Inc. and brings a fervent passion for the wisdom of Ayurveda to his practice as well as his personal life. It is that passion that drives him to continually develop new formulations using the latest research and technology available.
In his free time, Dr, Sodhi is avid about his regular workouts, loves to be with his family, enjoys cooking and any out of doors activities such as hiking, boating and picnicking. He is a deeply committed member of his church and community.
We're thrilled that you're joining us for the Physician's Choice Summit & Expo! For your convenience, we have created a list of Frequently Asked Questions.
Q: When is the Physician's Choice Summit & Expo, and how do I watch it?
The Physician's Choice Summit & Expo is Oct. 23 through Oct. 29, 2020. Each day you will be able to view select sessions. Links to access these session will be sent to you via email.
Q: I have yet to receive a confirmation email for the event. Am I signed up?
Immediately after you signed up for The Physician's Choice Summit & Expo, we sent you an email with the subject line "Physician's Choice Summit & Expo Access!". If you have not received this, please check your spam folder, promotions/events inbox in case it was misplaced. If you are unable to locate the confirmation email anywhere in your mailbox, please click here and follow the instructions.
Q: Where can I find the episode schedule?
You can access the episode schedule here.
The Physician's Choice Summit & Expo is set up into multiple tracks, with each day focusing on a new theme. These include:
Testing and Diagnosis
Botanical Medicine
Practice Building
Homeopathy
Software & Business Services
Supplements & Nutraceuticals
Nonprofits and community organization
Q: Can I access the videos and/or audios on my mobile device or iPad?
You should be able to access both videos and audios on any mobile device or iPad.
Q: I have a different question…
If your question was not answered by one of the points above, please send an email to our support staff at node@ndnr.com. We strive to answer each email within 24 hours.