Physician's Choice Summit & Expo | Event Schedule
Day 3 | Practice Building
FEATURED SPEAKER | The Evolution of Risk in Telemedicine: Insuring Risk in a Post Pandemic World 
We will discuss the evolutions of risk and coverage in the current client environment, we will talk trends and claim scenarios to be aware of, and finally, we will discuss the importance of strategy in any niche service like NDShield and the world of naturopathic medicines. 
You should leave the session with a sense of calm and confidence as you continue to build your practice in the post-pandemic world. 
Brought to you by ND Shield
Removing Friction in your Practice
Understanding yourself, your purpose and your goals are the keys to removing the FRICTION stopping you from achieving successful outcomes in your practice and personal life.
That's right FRICTION — the unnecessary barriers that we put up that make the direction we want to go in much tougher than it has to be.
The problem is, that most of us, if not all of us, don't recognize those barriers, and worse, when we do, we create even more friction when we try to remove them.
A bigger problem is that most of us not only create friction for ourselves but we also create friction in our practices and for our patients. How do you know if you are creating friction in your practice? Just ask yourself if your practice is where you want it to be. If it isn't it's always friction.
If you understand your patients and their pain points the first thing you would do is remove the friction from your office.
As Jeff Bezos, Founder and CEO of Amazon, says, "When you reduce friction, make something easy, people do more of it."
The key to practice success is to work with experts who can help you see the friction in your practice even when you can't see it yourself and then can help you eliminate that friction.
Brought to you by The Masters Circle Global
FEATURED SPEAKER | The Evolution of Homeopathy & Practical Applications in a Clinical Setting 
What if everything you knew about homeopathy has changed?
What if modern homeopathy was rooted in proven medical principles, backed by evidence, and easy to use?
What if we could bring you up to speed and introduce new clinical tools in 40 minutes or less?
You give patients better lives through improved health. At Professional Formulas, we want to help. That's why we've supplied high-quality supplements and homeopathic remedies exclusively to healthcare professionals for more than 35 years. This session on modern homeopathy is hosted by our President, Mike Grubb, with clinical input from Dr. Lee Samatowic ND and Dr. Renee Hubka ND, LAc.
Please join us for a quick, lively, science-based overview of modern homeopathy.
Brought to you by Professional Formulas 
Day 4 | Supplements & Nutraceuticals
FEATURED SPEAKER | Neurological Relationship to Chronic Disease
Our driving passion is to provide our practitioners with the most efficacious natural remedies available. Within this presentation, you will discover our revolutionary World Medicines, uniquely formulated from the highest quality Chinese, Ayurvedic and Western herbs along with single-molecule extracts. You will also find cutting-edge research and information to keep you abreast of all of the very latest advancements in the natural medicine industry to help patients facing chronic disease.
Brought to you by Panaxea International
Shocking Detox Science Revealed with Dr. Thomas Janossy
In this presentation, learn when is the BEST time to detoxify the body … the answer will surprise you since no one's talking about this. Learn about a disturbing truth about commonly used prescription drugs and the reason why it's being censored in the media. Learn how the circadian rhythm greatly impacts our health and how this has everything to do with implementing a powerful detox program for your patients.
Brought to you by Oradix
The Many Faces of Sleeplessness
Neuroscience knows sleep. Sleep is pivotal in improving patient outcomes, but toxic lifestyle habits, racing thoughts, stress, and other factors can make this an impossibility for your patients. Let Neuroscience support you in supporting your patient's circadian rhythm, with a blend of herbs and botanicals that we will cover in this presentation. 
Brought to you by Neuroscience
Day 5 | Supplements & Nutraceuticals
Insane for The Membrane: Pure Form Omega and Optimal Cellular Health
The performance of our cells is dependent on a functioning membrane. All critical cellular reactions occur on the membrane, from the mitochondrial membrane to the cell nucleus membrane to the membrane of the cell itself. All receptors depend on a healthy cell membrane for optimal function. There cannot be cellular health without membrane health, "Life starts in the membrane"! At Pure Life Science, we believe that Pure Form Omega is insanely good for the membrane!
During this presentation, you will learn:
The membrane is critical for all receptor function

Mitochondrial reactions all take place on the membrane

The oxygen-carrying capacity of the cell membrane is tremendously under-appreciated in today's scientific literature
Brought to you by Pure Form Omega
A Natural Approach to Infertility Care 
Join Dr. Marc Sklar, DACM, LAc, FABORM, and founder of the Reproductive Wellness Clinic in San Diego, for his practical insight on how to naturally enhance fertility for women and men. Dr. Sklar will go over common issues he sees with his patients and how best to address them.
Specific topics include how to:
Support egg quality and ovarian function

Promote cycle regularity and hormonal balance

Address vaginal dryness, cervical mucus production

Improve sperm parameters and address the impact of oxidative stress
Brought to you by Fairhaven Health
Common Problems in Women and Natural Treatment Strategies
Learn natural treatment strategies for your most vulnerable female patients. Dr. Tori Hudson is a leader in women's health and addresses common complaints in your patients' lives. Learn the protocols to overcome: PCOS, acute menorrhagia, primary dysmenorrhea, endometriosis, and yeast vulvovaginitis.
Brought to you by Vitanica
Day 6 | Supplements & Nutraceuticals
FEATURED SPEAKER | Tuning Up the Immune System
Russell Jaffe has more than 40 years of experience contributing to molecular biology and clinical diagnostics. He pioneered "lymphocyte tests of immune function and hypersensitivity" and is focused on providing functional, predictive tests and procedures designed to improve the precision of both diagnosis and treatment outcomes.
Brought to you by Perque
Not getting expected & consistent treatment results? The Secret Lies in the Quality of Products You Prescribe
You have the Right Diagnosis
You have the Right Treatment with full compliance from the patient
Yet, nothing changed or things got worse
What else is missing?
The 'Right Quality' of Your Product.
How can we recognize the 'right quality' in products?
Labels – The Devil 'Hides' in the Details

Dosage Forms & Non-Medicinal Ingredients

Understanding the Quality of Herbal Extracts 

Ingredient Case Studies: Most Popular Ingredients with Misconceptions & Questionable Quality
Brought to you by Vitaaid
The Gastrointestinal Microbiome: in human health and disease
This presentation provides a review of the GI microbiome and its role in various bidirectional networks including the gut-brain axis, the gut-liver axis, immunity, and metabolism. Also included are detailed recommendations on how to identify high quality, evidence-based probiotic formulations to support these systems as well as a deep dive into a leading European practitioner brand in Europe: OMNi-BiOTiC, now available in the United States.
Brought to you by Omni-Biotics
Day 7 | Supplements & Nutraceuticals
The Underlying Pathology of Chronic Disease and Treatment Solutions
As chronic disease continues to increase, practitioners need new methods for prevention and treatment.  Understanding the underlying mechanisms involved in development of these illnesses offers long term prevention and treatment strategies. As research focuses more on pathology than symptoms of disease, the interaction between mitochondrial dysfunction, oxidative stress, inflammation, immune imbalance, and mast cell activation have been repeatedly shown to be major risk factors.  Treating these specific pathological mechanisms with targeted supplements can greatly improve patient outcomes regardless of disease diagnosis. This presentation will discuss mechanisms along with specific targeted supplement formulations.
Objectives:
    

Understand the biologic basis underlying most chronic diseases including mitochondrial dysfunction, oxidative stress, inflammation, immune imbalance, and mast cell activation.

    

Discuss a change in treating disease not by diagnosis but by pathology causing the symptoms

    

Learn treatment options for decreasing the underlying pathologic mechanisms in chronic disease
Brought to you by Researched Nutritionals
Commitment to Clinical Efficacy & Research
Biocidin® is a synergistic combination of botanicals, which targets the entire GI tract and oral cavity, and supports microbiome balance for healthy digestion and elimination. These broad-spectrum botanicals offer systemic support and have been utilized by practitioners for more than 30 years.
Brought to you by Biocidin
Day 7 | Nonprofits and Community Organization
Bridging Generations of Knowledge and Leadership in Medicine
The Naturopathic Medical Student Association (NMSA) is a 501(c)3 non-profit that represents naturopathic medical students across North America. The NMSA operates on the core values of Empowerment, Community, Impact, and Integrity. We seek to offer leadership and professional development opportunities for the upcoming members of the profession. To make a difference in healthcare, we will cover:
Fellowships, travel grants, scholarships

Leadership opportunities

State and provincial advocacy opportunities

Inter-professional organizational involvement
Brought to you by NMSA
Closing Ceremony & Awards!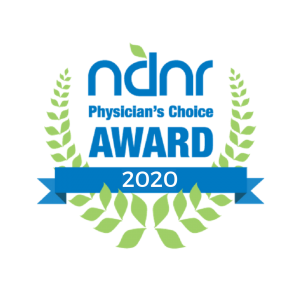 At the end of the event we will announce the NDNR Physician's Choice Award. Started in 2016, this award is bestowed upon companies that embrace naturopathic medicine and support physicians, their practices and patients. Characteristics of a nominee include, but are not limited to elements of: quality products, superior customer service, community outreach, and social/environmental impact.