ClickFunnels is a simple to use all-in-one marketing solution that enables you to set up online sales funnels, websites, shopping carts, memberships, email automation and more, all without needing to know code, design, or hire an expensive marketing team. Designed for entrepreneurs and business owners who want to generate leads and market their services and products online, ClickFunnels is built to be used by entrepreneurs at any level, whether they are a brand new business, established Inc. 500 company, a side-hustling stay-at-home Mom, even a hot dog vendor. More than just a SaaS company and software, ClickFunnels also builds marketing training and business education programs to teach aspiring entrepreneurs with just an idea, how to get up and running quickly and profitably. Within their growing community of over 100,000 business owners (calling themselves "funnelhackers"), they've become known as the company that turns everyday people into millionaires. In just three years, ClickFunnels has helped over 600 business owners cross over the $1,000,000 mark, with over 40 of them continuing to scale to $10,000,000 and beyond. ClickFunnels' biggest fan is CEO and co-founder Russell Brunson. Brunson built ClickFunnels with his business partner Todd Dickerson, launching in September 2014. A millennial marketing genius and the original "Funnelhacker", Brunson is recognized by industry peers like Tony Robbins, Marcus Lemonis and Gary Vaynerchuk. The company's mission is designed to empower entrepreneurs to spread their message and products to change and impact lives, but they as a company also give back in other ways. ClickFunnels supports non-profits such as Village Impact, which helps build schools in Africa, and Operation Underground Railroad, a global non-profit that rescues children from sex trafficking. With Russell's marketing brilliance and the rapid adoption of sales funnels and success stories with their core base of users, ClickFunnels has generated over $100,000,000 in sales and currently supports over 100,000 customers, making it the fastest-growing, non-VC backed SaaS company in the world.
Click Funnels
#680-4400 Hazelbridge Way.
Richmond BC V6X 3R8
Toll Free: (866) 287-4986
Phone: (604) 273-2233
Fax: (604)273-2236
Email: [email protected]
For a limited time, take advantage of this special offer: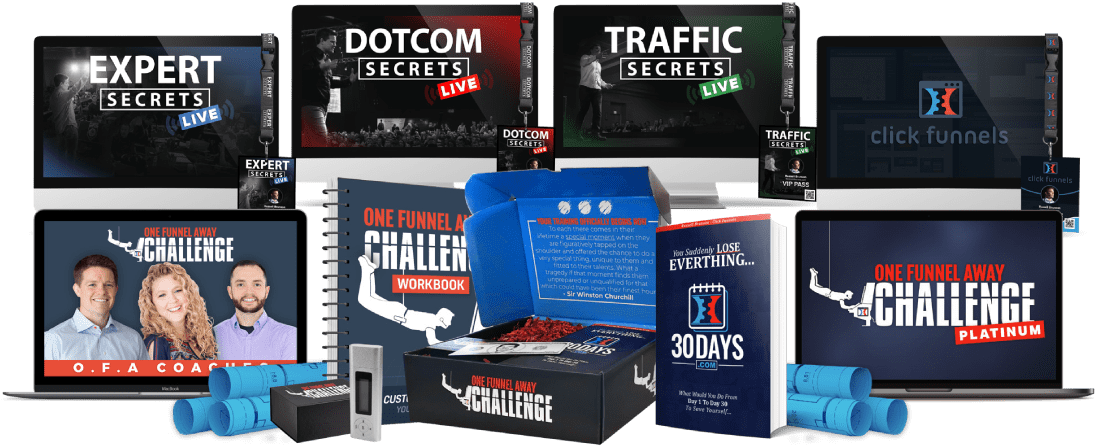 Click Funnels
One Funnel Away Challenge!
The One Funnel Away (OFA) Challenge is a virtual 30-day program that will guide you every step of the way in creating a highly profitable sales funnel.